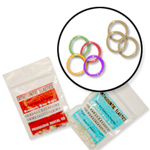 Elastics (Rubber Bands)
Wearing elastics (or rubber bands) improves the fit of your upper and lower teeth. Wear rubber bands as instructed, and remember that the rubber bands work far more efficiently if they're worn as prescribed.
---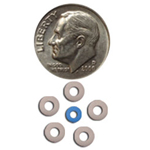 Separators or Spacers
Separators are little rubber doughnuts that may be placed between your teeth to push them apart so that orthodontic bands may be placed during your next appointment. The separators will be removed before we place the bands. Separators do not mix well with sticky foods, toothpicks or floss.
Reviews from Our Patients
"Dr. Gullick and his staff are awesome!!! Appointment times are convenient and we never wait more than 10 minutes to be seen. I always recommend Dr. Gullick's practice to anyone needing orthodontic care."

~ Shannon C

"Dr. Gullick is very personable and his staff are all great. My treatment took the amount of time that I was told it would take, and my teeth look great!!"

~ Margot L

"I love going to Dr. Gullick's office. Everyone is very friendly. They are always listening to problems or comfort issues from the braces you may have and they are ready to work with you."

~ Karen D

"I like this place because they work hard to keep my smile looking great and everyone there is nice and friendly. Keep up the good work!!"

~ Levi F

"The whole experience is very efficient and the staff is friendly! Dr. Gullick always takes time to ask how his patients AND parents are doing. Plus, my daughter is always excited about going to her appointments. I can't say that about many other doctor visits."

~ Sharry L