Traditional Metal Braces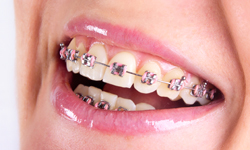 Traditional metal braces are the most common type of braces and are more comfortable today than ever before. Made of high-grade stainless steel, metal braces straighten your teeth using metal brackets and archwires. With metal braces, you have the option of adding colored elastics (rubber bands) for a more unique and colorful smile.
RADIANCE™ Clear Braces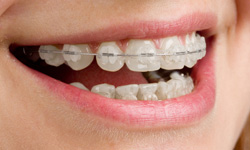 RADIANCE™ clear braces are made of a single crystal of pure sapphire and are therefore less visible on your teeth than metal braces. They are stain-free and are designed to be the strongest brackets available. The brackets are so smooth, you won't need to worry about the edges irritating your mouth like traditional braces can.
Clear Aligners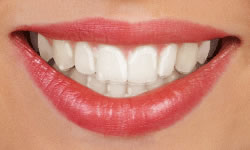 Clear aligners are a series of invisible, removable and comfortable acrylic trays that straighten your teeth like braces. Not only are the aligners invisible, they are removable, so you can eat and drink what you want while in treatment, plus brushing and flossing are less of a hassle. The aligners are comfortable and have no metal to cause mouth abrasions during treatment.
Reviews from Our Patients
"Dr. Gullick and his staff are awesome!!! Appointment times are convenient and we never wait more than 10 minutes to be seen. I always recommend Dr. Gullick's practice to anyone needing orthodontic care."

~ Shannon C

"Dr. Gullick is very personable and his staff are all great. My treatment took the amount of time that I was told it would take, and my teeth look great!!"

~ Margot L

"I love going to Dr. Gullick's office. Everyone is very friendly. They are always listening to problems or comfort issues from the braces you may have and they are ready to work with you."

~ Karen D

"I like this place because they work hard to keep my smile looking great and everyone there is nice and friendly. Keep up the good work!!"

~ Levi F

"The whole experience is very efficient and the staff is friendly! Dr. Gullick always takes time to ask how his patients AND parents are doing. Plus, my daughter is always excited about going to her appointments. I can't say that about many other doctor visits."

~ Sharry L