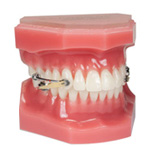 Carrière®
A Carrière is used for class II bite correction. Its a quick, simple and comfortable appliance that is used in addition to your orthodontic treatment to correct the bite quickly. This device requires patient compliance with wearing elastics full time. Average bite correction is about four months.
---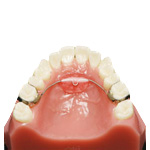 Nance
A Nance is a fixed appliance is used for maintaining molar position. It can be used in combination with orthodontic treatment.
---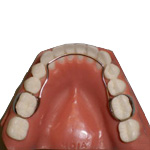 Lingual Arch
A lingual arch is used on the mandibular arch to maintain level of lower molars or spacing.
---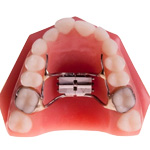 Palatal Expander
The palatal expander "expands" (or widens) your upper jaw by putting gentle pressure on your upper molars each time an adjustment is made. Your orthodontist will instruct you about when and how to adjust your expander. When you achieve the desired expansion, you will wear the appliance for several months to solidify the expansion and to prevent regression.
Step 1
In a well-lit area tip the patient's head back.
Step 2
Place the key in the hole until it is firmly in place.
Step 3
Pushing the key towards the back of the mouth, you will notice the fender will rotate and the new hole will appear. The rotation stops when the key meets the back of the expander.
Step 4
By pushing back and down towards the tongue, remove the key. The next hole for insertion of the key should now be visible.

View palatal expander animation »
---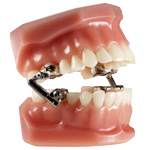 Herbst® Appliance
The Herbst appliance reduces overbite by encouraging the lower jaw forward and the upper molars backward. This fixed appliance is used mostly for younger, growing children and is worn for about nine to 12 months.
---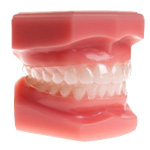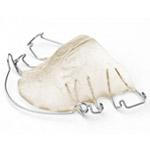 Retainers
Retainers may be removable or fixed. They hold your teeth in their new, correct positions after your teeth have been straightened. Your orthodontist will instruct you on how to care for your retainer and about the duration of the wear. Wearing your retainer as directed is crucial to prevent regression of your treatment.
---
Reviews from Our Patients
"Dr. Gullick and his staff are awesome!!! Appointment times are convenient and we never wait more than 10 minutes to be seen. I always recommend Dr. Gullick's practice to anyone needing orthodontic care."

~ Shannon C

"Dr. Gullick is very personable and his staff are all great. My treatment took the amount of time that I was told it would take, and my teeth look great!!"

~ Margot L

"I love going to Dr. Gullick's office. Everyone is very friendly. They are always listening to problems or comfort issues from the braces you may have and they are ready to work with you."

~ Karen D

"I like this place because they work hard to keep my smile looking great and everyone there is nice and friendly. Keep up the good work!!"

~ Levi F

"The whole experience is very efficient and the staff is friendly! Dr. Gullick always takes time to ask how his patients AND parents are doing. Plus, my daughter is always excited about going to her appointments. I can't say that about many other doctor visits."

~ Sharry L